From the Modules section, you can monitor your progress as you work your way through the content uploaded from instructors within the Group. The progress status of your activities is visible:

PLEASE NOTE: Group instructors can monitor the progress of the whole Group and of each learner from the Record.
Your Progress
This panel shows an overview of Modules that you have completed and still need to complete, taking into account every Module posted by the instructors.
If you use WeSchool from a desktop or tablet you can find Your Progress status just to the right of Modules: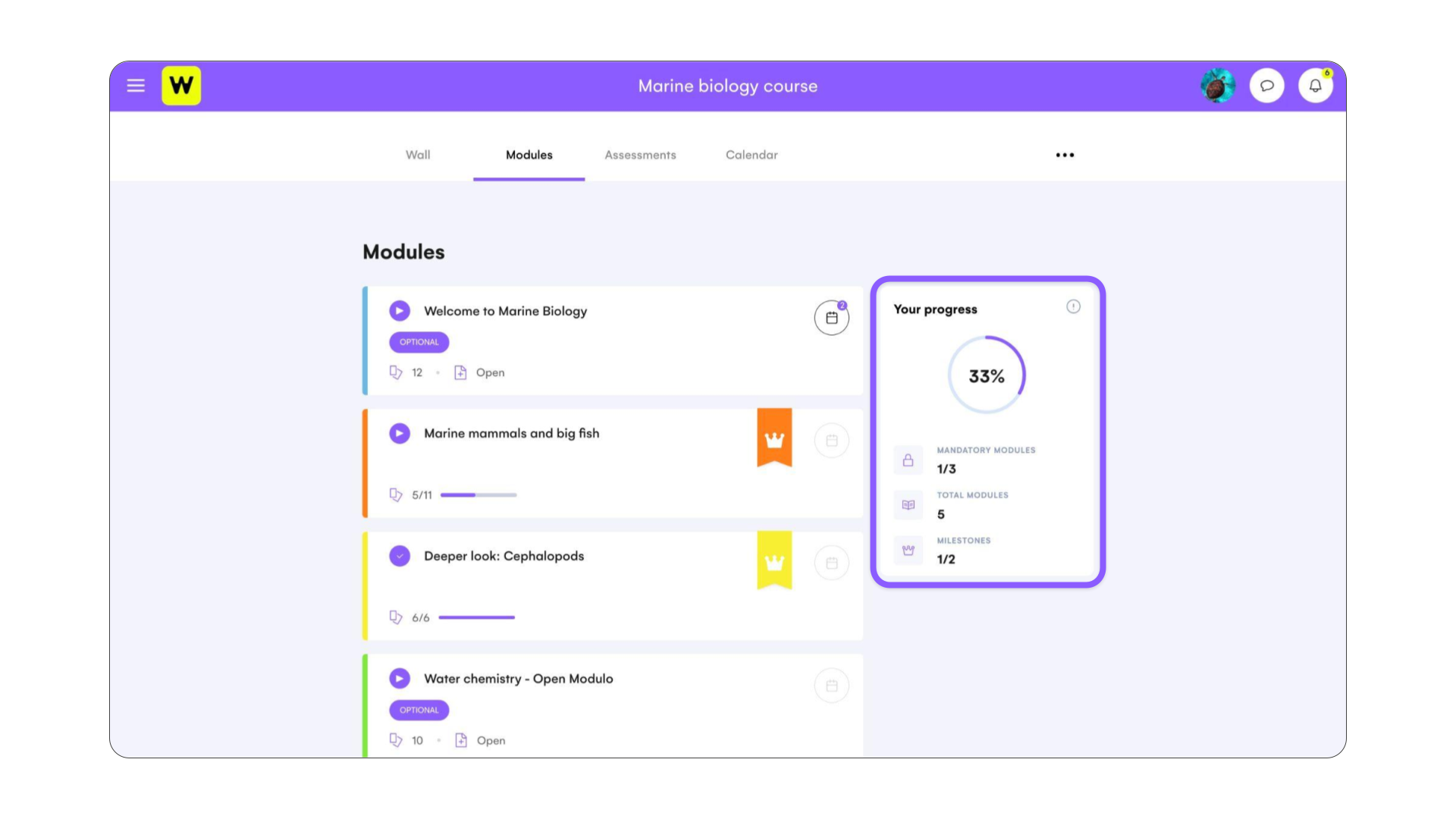 If you access this site from a smartphone, you will find the panel at the top of the screen, above Modules: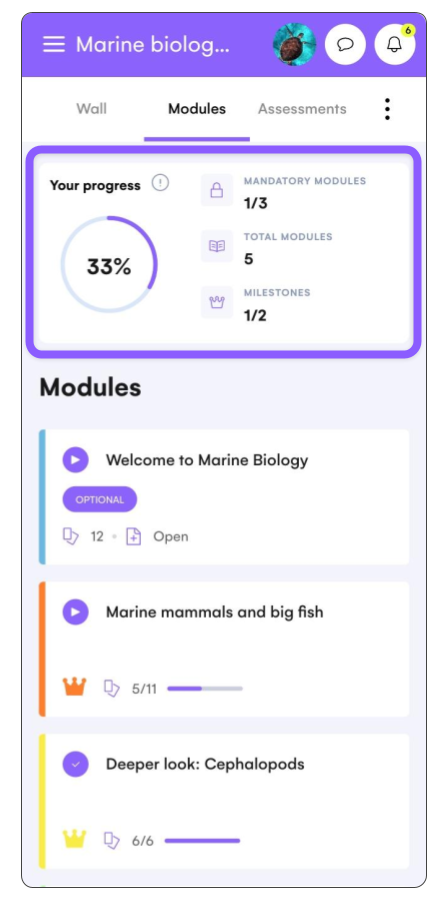 Here, you can monitor:
Percentage of Mandatory Modules completed

. Remember that the instructor can set a Module as mandatory or optional: If it falls into the latter category, these are not counted in this percentage

of

mandatory Modules

already completed out of the total number of mandatory Modules

The

Total number of Modules

posted also includes optional Modules

The number of

Goals

reached and the total number of available Goals. Remember that an instructor can add a Goal to a Module by inserting a message that you will be able to view once the entire Module is completed.
PLEASE NOTE: you can distinguish an Optional Module from a Module with a Goal by its preview: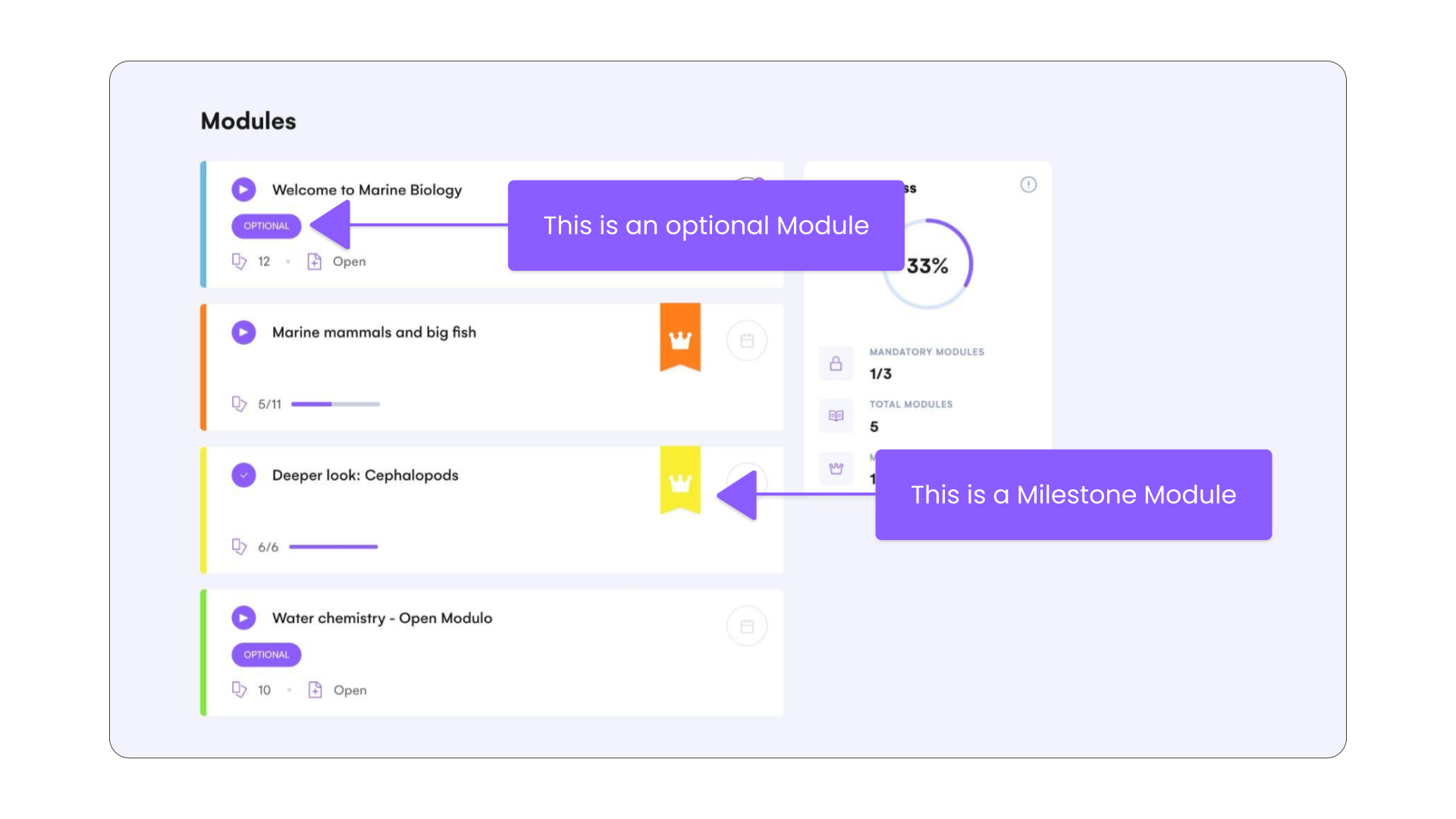 Inside Each Module
The preview of the Module provides an overview of the Module's content; here you can view how much content you have already completed and the total amount of content within the Module:

By opening a Module, you can also see in detail which content you have or have not already viewed. If you have already viewed the content, there will be a blue tick next to the content's title:

PLEASE NOTE: an Assessment uploaded within a Module is considered complete if you have obtained a grade of 6 or higher, i.e., with a score equal to or greater than 60%.
If the score icon is green, this means that the Assessment has been passed: