In your WeSchool profile page you can fill in your personal and contact information such as:
Profile picture

Date of birth

Telephone Number

Email address

Link to your Facebook and Instagram profile

A presentation Bio
You can edit your profile page by clicking on your name and on your profile picture directly from the Wall, or by opening the Sidebar and clicking on Profile Information; then select EDIT PROFILE, which you will find below your profile picture: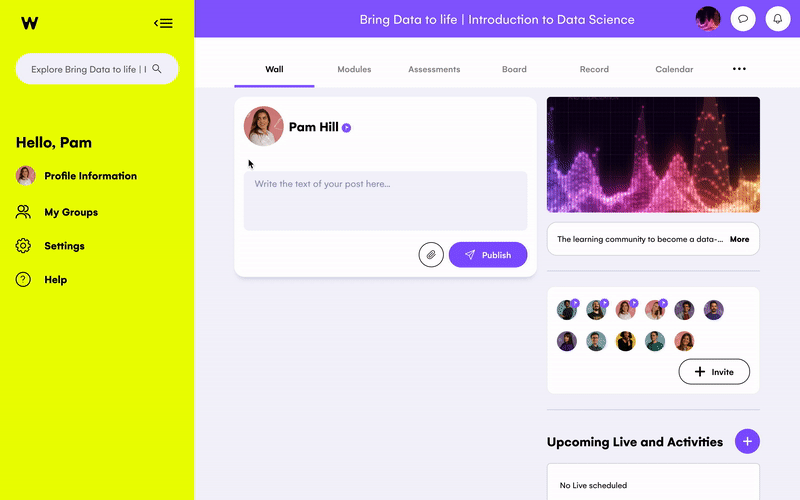 From there you can:
Change your

profile picture

, uploading one of the images saved on your device, with a maximum file size of 10 MB;

Edit your date of birth, first selecting the correct decade by using the arrows and then the year, month, and day of birth;

Put in a

phone number

by typing the entire cell phone number without spaces;

Decide whether to make visible your

email address

with which you access WeSchool to other users

Insert a link to your

Facebook profile

. To do so, you will have to copy and paste the link to your profile, for example: https://www.facebook.com/ludovico.ariosto3 (ensure the link does not end with the "/" symbol, otherwise it will not be considered correct!);

Also add your

Instagram profile

by typing an @ and your username (for example: @LudovicoAriosto);

In the space reserved for the

Bio

, provide a brief description of yourself to introduce yourself to other Group members.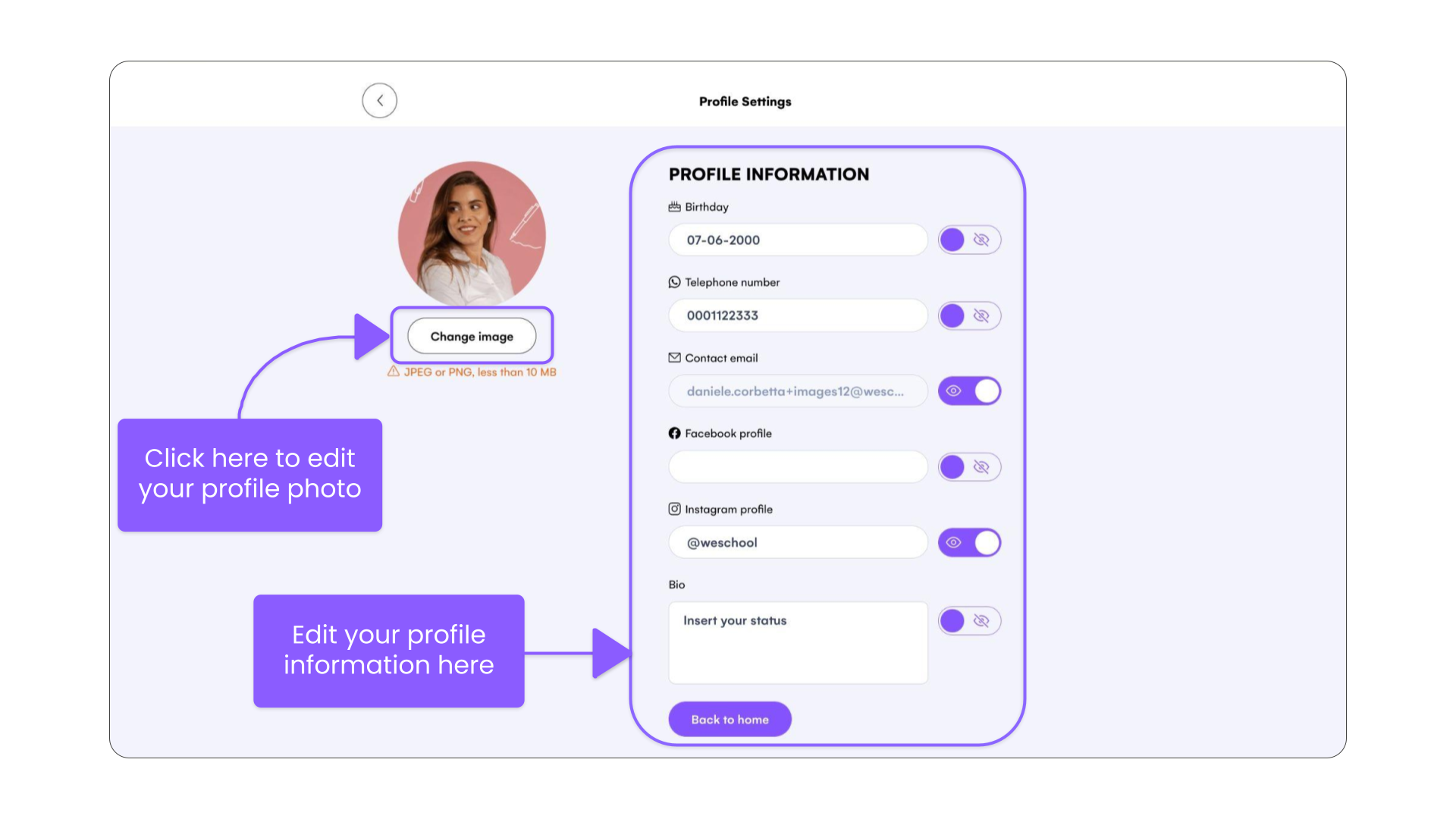 You can choose which information to hide or to show to other WeSchool members by clicking on the eye-shaped switch to the right of each name: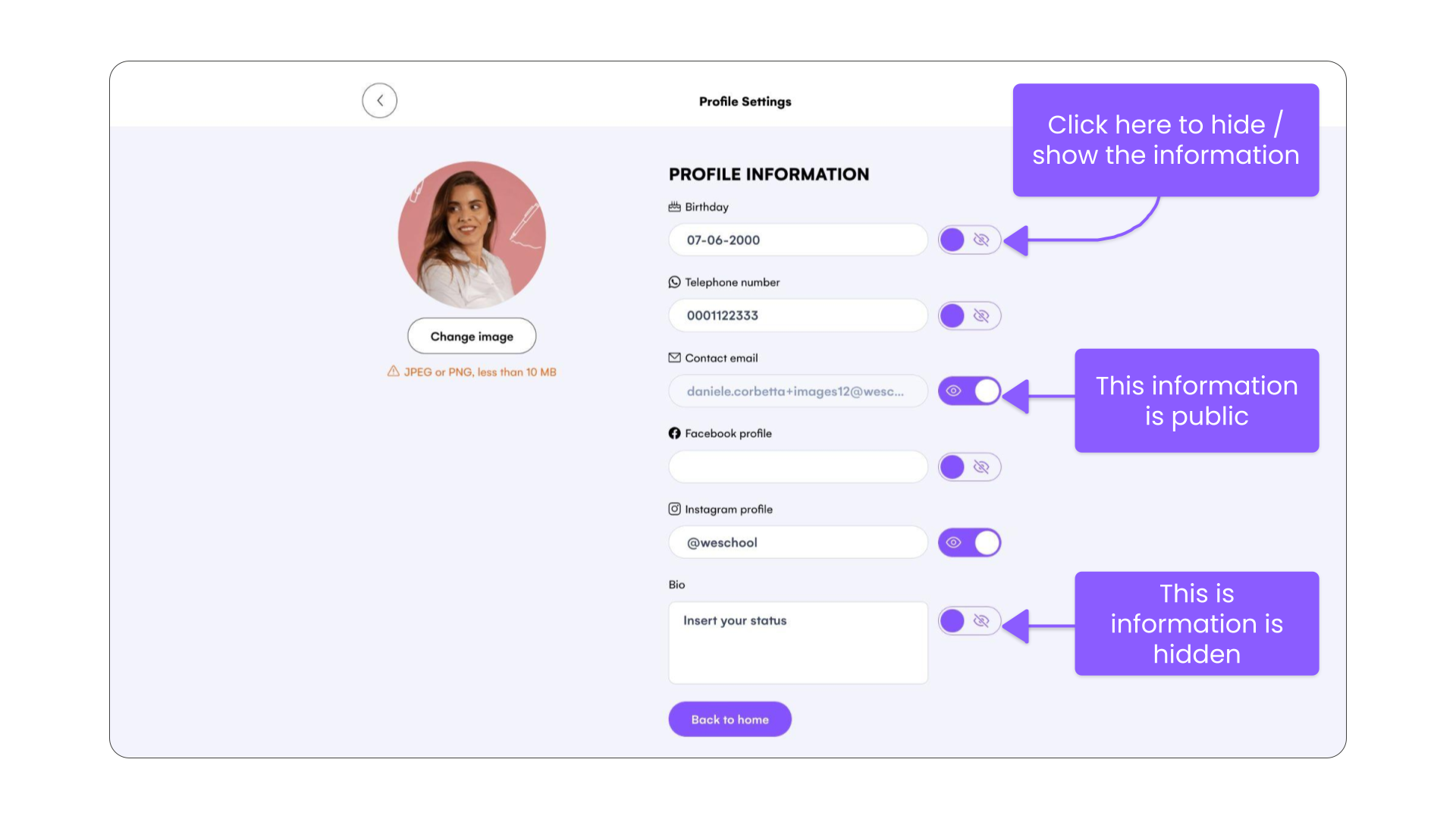 If the switch is shifted to the right and colored purple, the information is visible to WeSchool users visiting your profile;

Conversely, if is shifted to the left and colored white, this indicates that the information is not accessible by the public.
How to Visit a User's Profile
You can visit the profile of all users that have at least one group in common with you.
To visit a user's profile, all you have to do is click on their name in a Module or from a post on a group Wall: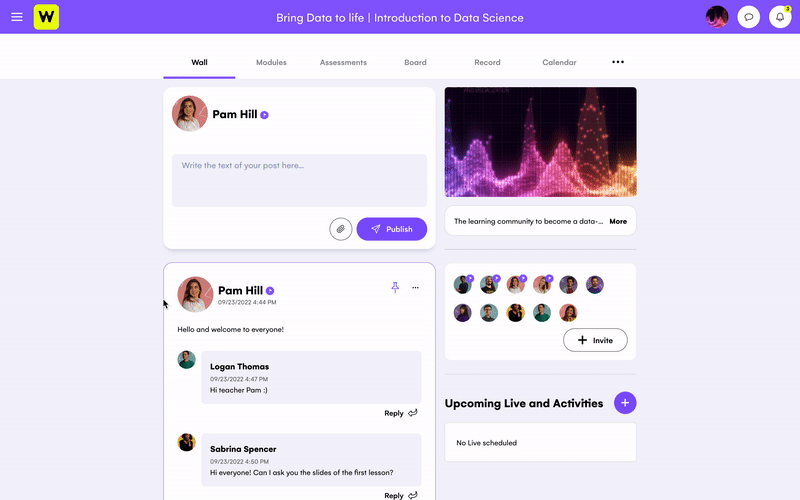 By visiting the profile page of another WeSchool user, you can:
See all the

information

and links that the user has decided to make public;

View the

Groups in common

between the user and yourself;

Write a

private message

through the WeSchool Chat, by clicking on the WRITE MESSAGE button under the profile picture;

See users'

posts

in Groups that you're both a part of, by clicking on the SHOW USER POSTS button.