Through notifications, you can always keep up-to-date in a personalized way on what is happening in a Space: for example, you will be notified of a new Post on the Wall, a Live that is about to start, and any other activity.
Two types of notification are available:
via app, which inform you on what is happening directly from within WeSchool.
You can see the notifications in the top right of any Space by clicking on the bell icon, while the yellow counter indicates how many notifications you have not yet read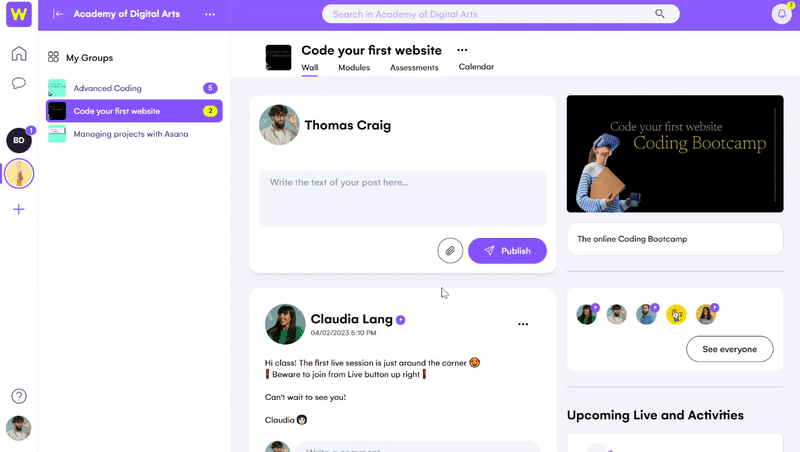 via email, messages sent to your mailbox help you to stay updated when you're not connected to WeSchool
From your Notifications management page, you can decide which app and email notifications to receive and personalize your choices depending on the Space and Group. For example, during a holiday period, you can choose to receive only email notifications or disable notifications for a Group email to which you are always active and connected.
For email notifications, you can choose whether or not to receive:
all updates; remember that this is the default setting
a daily summary
a weekly digest
no emails
For app notifications, you can choose whether or not to receive:
all notifications; remember that this is the default setting
Only for more important notifications (Highlights), which include the activities of an instructor in the Group, as well as other interactions that directly involve you, such as a reply to one of your Posts on the Wall or to a comment within a Module
No notifications
How to Set up Notifications
To personalize which notifications you receive, click on your profile image on the sidebar and select Notification settings:
Here, you can view how you have set up notifications for all Spaces and Groups that you are a part of and edit them.
Personalize the notifications from a Space
You manage the notifications from all the Groups within a Space simultaneously from the envelope icon (email notifications) and bell icon (app notifications). Click on the icon and choose the setting from the dropdown menu: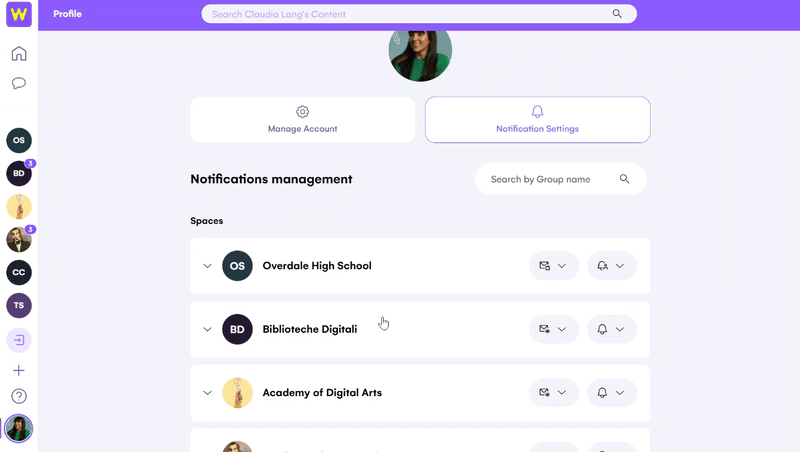 Personalize the notifications from a specific Group
To manage the notification settings only for a specific Group, click on the ν icon next to the Space logo, to view the full list of Groups. Then click on the bell and envelope icons next to the name of the Group to edit the settings from the dropdown menu: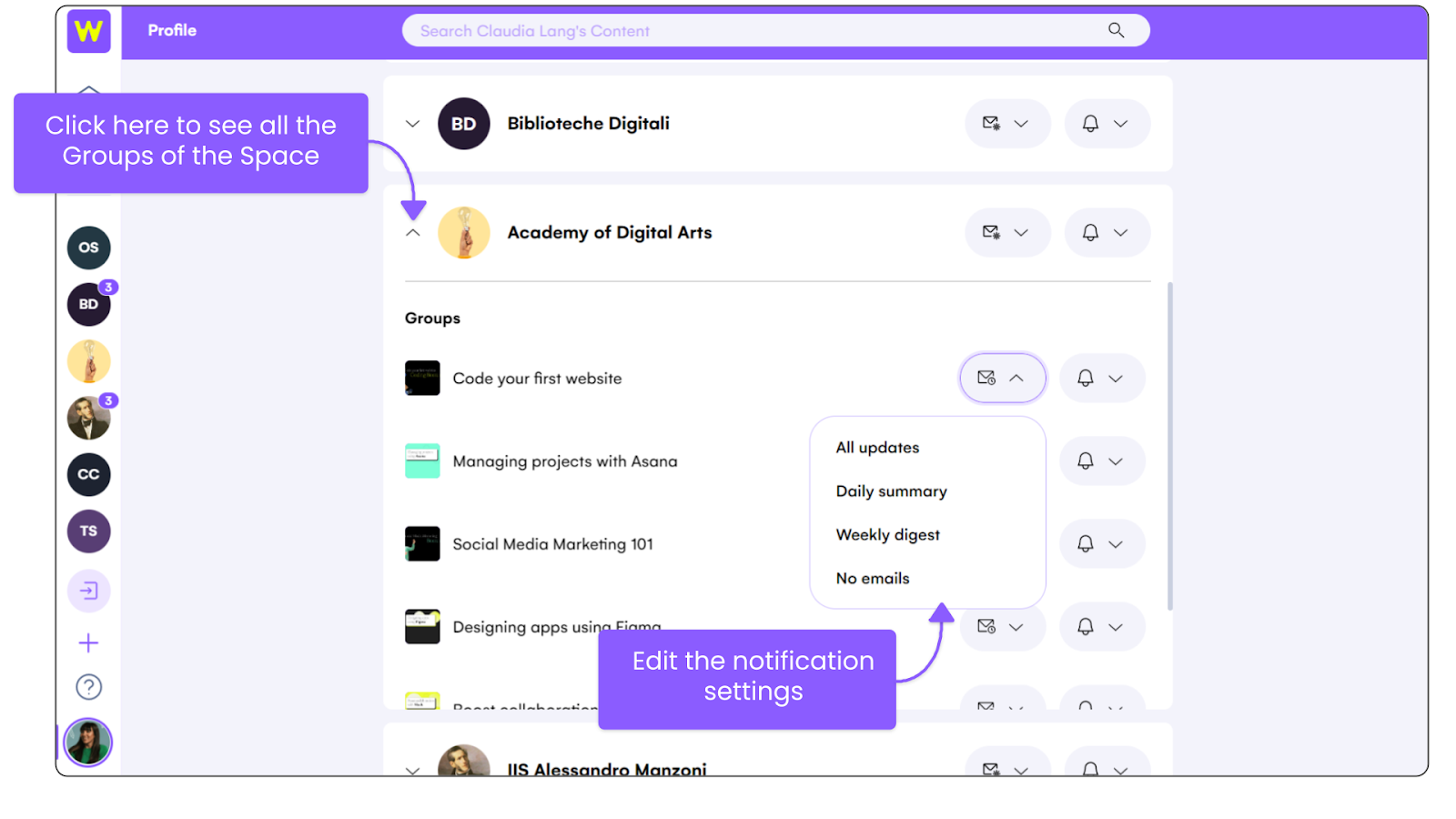 PLEASE NOTE: You can quickly search a Group by typing their name in the box in the top right: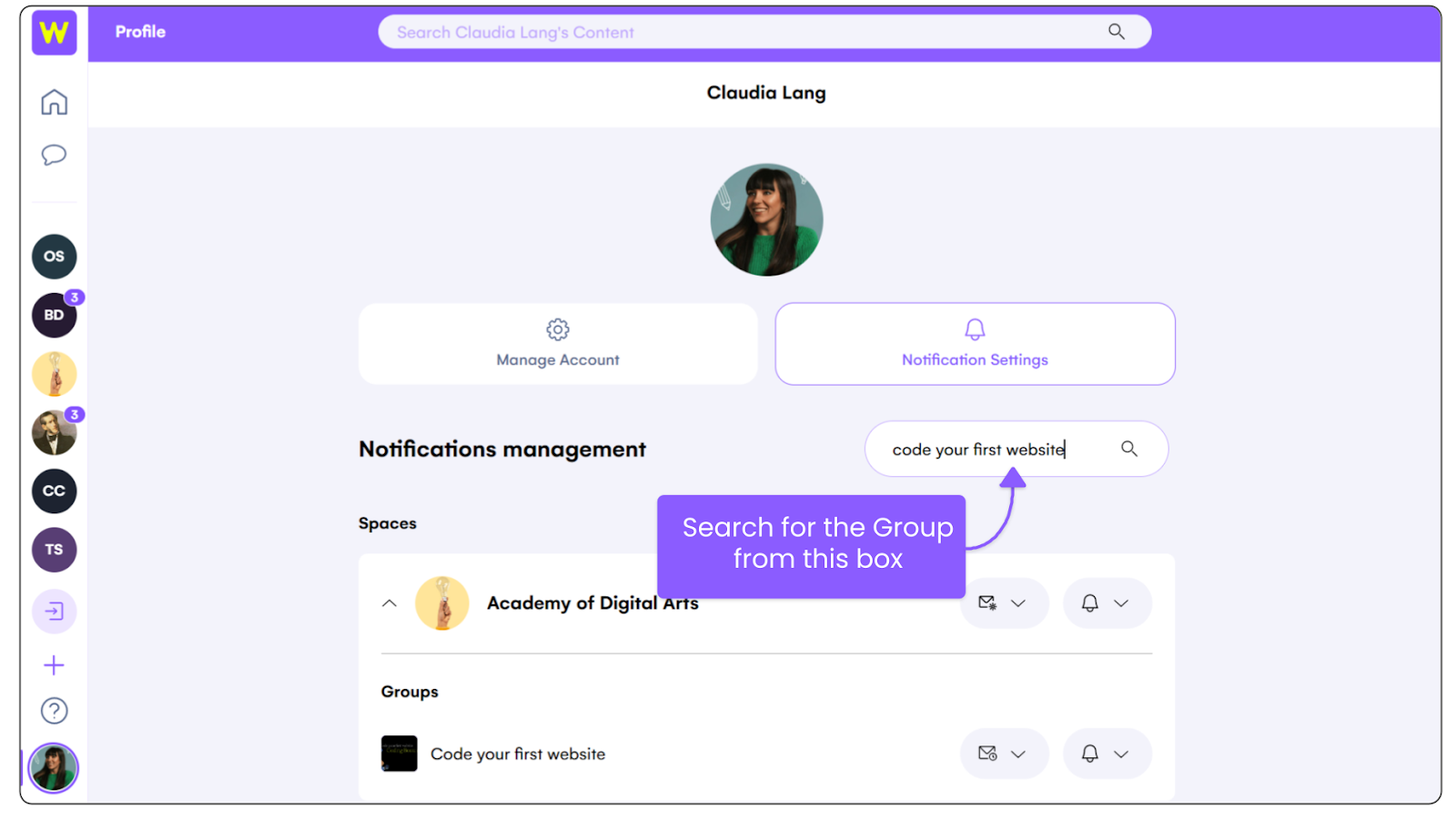 You can also manage the notifications of a specific Group directly from the Group.