K12 Schools and Universities eligible for a Free Plan need to claim the Space to unlock all the Space features and start managing the Space. Learn more about subscribing to a Free plan.
PLEASE NOTE: existing Groups associated with your School are automatically gathered in an unclaimed Space reserved for your School. You just need to claim the Space to start managing it.
Unclaimed Space
As long as the Space is unclaimed, Space users will not be able to
You can easily identify an unclaimed Space from the Space Homepage. If the Space is unclaimed, it will feature a grey banner, highlighting that the Space hasn't been claimed yet: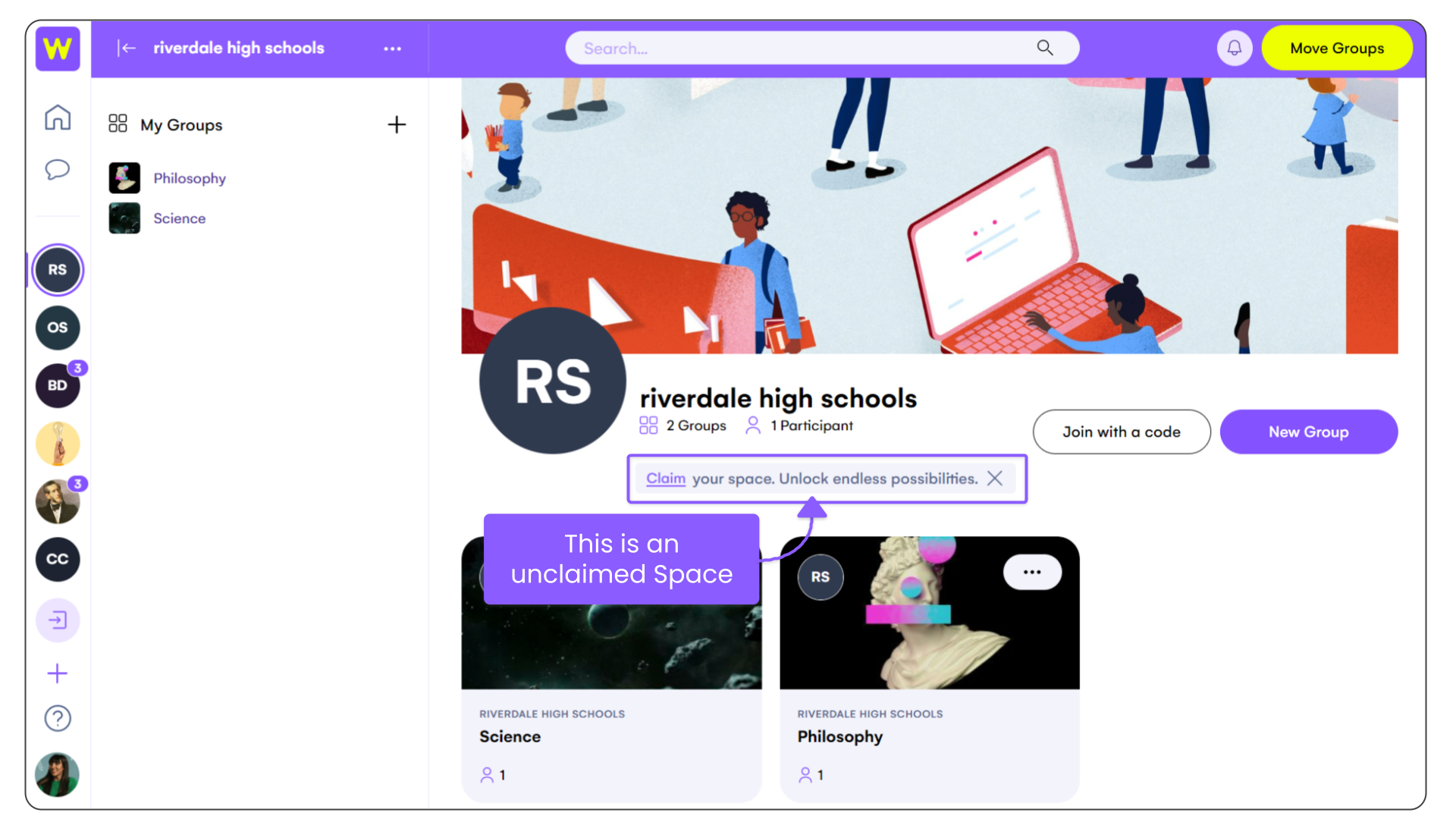 Claiming a Space
Claiming a Space will require providing information about the school and signing a contract between the school and WeSchool.
PLEASE NOTE: only the school principal or a teacher authorized by the school principal can complete the process of claiming of a Space. Please reach out to the School principal if your school's Space is still unclaimed.
To start claiming a Space:
access the Space and select the ⋯ three dots icon on the top left of the screen, next to the Space's name. From the dropdown menu select Claim your Space:

now fill in the form to provide more information about
- your WeSchool account (name, surname, email address)
- your School (i.e. Name, address, school telephone number, and school Email address)
PLEASE NOTE: the WeSchool Team will review this information to verify the Free Plan eligibility.
finally, you'll need to sign a contract between the school and WeSchool, which includes WeSchool's Terms and Conditions and a Data Protection Agreement.
Once the contract is signed, you'll gain full control of the Space and be able to manage the school's Groups, students, and teachers. Successfully claimed Spaces have a checkmark next to the Space's name to make them easily identifiable: